The Advanced Microfiber Mop (supplied with a Advanced Microfiber Multi-Purpose Pad )

The Advanced Microfiber Mop is simply the best chemical free cleaning mop tool for every bare floor surface anywhere. You can now and once and for all FREE yourself and your family of dirty mop bucket water and the harmful residues they leave behind from the chemicals that typically accompany it.

And in times where spending money on disposables just doesn't make any sense, use our mop and FREE yourself of disposables and help save our planet at the same time. Don't be fooled by those silly commercials you see on TV. It's not funny when you see your money get dirty and then you have to throw it away. That's why they call it cash in the trash!

FreeMop.com Products are Washable and re-useable.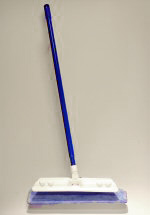 Use the
Advanced Microfiber Mop
dry for dusting and sweeping on all bare floor surfaces without fanning dust into the air. It's like a balloon when you rub it against your head. It creates an electro-static charge and becomes a magnet for pet and human hair. It attracts dust bunnies and micro-dust particles that disposables and not even vacuums can extract. Many loyal consumers of our brand claim that they now can dust their walls with our microfiber mop and love it!
Using the
Advanced Microfiber Mop
wet (slightly damp) is the most amazing mopping experience that you will ever know. Sounds crazy doesn't it? When you use our
Advanced Microfiber Mop
wet, you can actually feel the mop cleaning the floor. It's high friction, deep clean, and polish from our
Advanced Microfiber Multi-Purpose Pad
will clinically clean your floor better than any other method available. After fifteen years developing this product, nearly every hospital in the USA and every modernized country in the world use this microfiber mop.
You can use anything but bleach with our microfiber mop, but all you really need to do is clean "green" with water or add just a little white vinegar with water.
The telescoping steel pole and adjustable socket offers the ultimate cleaning tool. The telescoping pole customizes the length needed to match the reach required. Add to it - the
Advanced Microfiber Multi-Purpose Pad
or
Super Dust White Pad
to the Velcro™ base and cleaning couldn't be any easier!
Dry - Use the
Advanced Microfiber Multi-Purpose Pad
or
Super Dust White Pad
to pick up dust from walls, ceilings, window coverings, baseboards, floors, and fans. Whatever ... wherever - the
Advanced Microfiber Mop
will find it in all the hard to reach places.
Wet - Use the
Advanced Microfiber Mop
for mopping and cleaning by thoroughly wetting the mop with hot water. Wring out excess water and let the MicroFiber do all the work to remove sticky (smoking and cooking) residues, dirt, mud, scuff marks, ground-in dirt, spills, and stains. Wherever the "dry" mop goes, so can the "wet" mop.
Here are a couple of suggestions for setting up the wet mop:
For small projects, use a spray bottle with hot water and a small amount of white vinegar. Spray area and wipe up with the wet mop.
For larger projects, use two buckets: one for clean water to rinse out dirty mop pad and the second bucket with hot water and white vinegar. Once the pad is rinsed, dip into the clean water with white vinegar and continue to clean.
Green Microfiber Mop
$29.95
Sorry - Out Of Stock
Check Back Soon!
Blue Microfiber Mop
$29.95